DUCK BREASTS AND CRANBERRIES SAUCE 
Ingredients for 6 people:
650g of cranberries 
Sugar 280g
25 cl squeezed orange juice
Grated zest of one orange
6 tablespoons orange liqueur (Cointreau, Grand Marnier)
6 duck breasts
Pepper
Sea salt
PREPARATION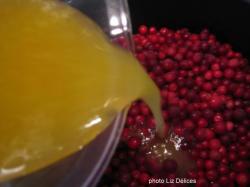 Put the cranberries in a saucepan with sugar and fresh orange juice.
Simmer 15 minutes, uncovered.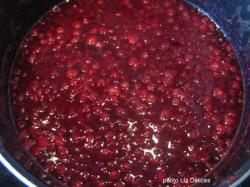 Add the orange zest and 6 tablespoons water
simmer 15 minutes still uncovered, stirring occasionally.
Pour fruit and juice.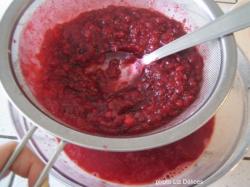 Using a spoon, crush the fruit to get the grout.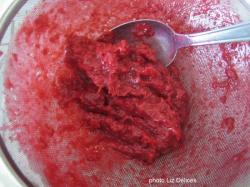 That's  the remaining fruit skin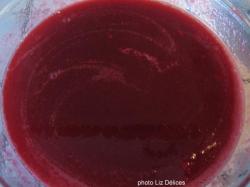 Add the liqueur to the "coulis".
Sauce can be prepared in advance. And warmed before serving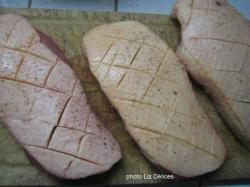 Prepare the skin side of the duck as the picture  add freshly grounded pepper.
For cooking, I am fan of hot frying pan, I place the duck breasts skin side.
CAUTION put an anti projections flutters, the duck fat might burn you while cooking ... approx three four minutes.
Discard the fat, turn the breasts for three four minutes again. Let stand 5 minutes before cutting in slices called "aiguillettes"
Some cook the duck ten minutes under the grill .... personally I think it's too much projections ...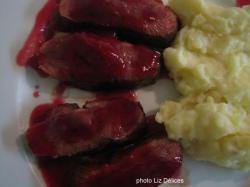 I set the duck with a little sea salt and hot sauce, and mashed potatoes.
Remaining sauce is served on the side.
THIS SAUCE ACCOMPANIES OFTEN THE THANKSGIVING TURKEY IN THE UNITED STATES, IT MATCHES AS WELL WITH OTHER KIND OF POULTRY.