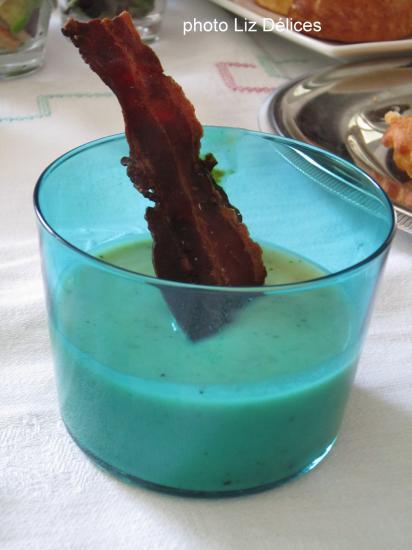 CHILLED ZUCCHINI & MINT SOUP
INGREDIENTS (for ten glasses)
1.200 kg zucchini
2 tablespoons olive oil
25cl fresh cream
1 bunch fresh mint
salt
pepper
10 thin slices of bacon 
PREPARATION: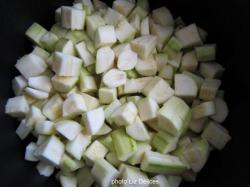 We always say that vitamins are in the skin ... the problem with zucchini is that if it is prepared a little in advance, skin zucchini may release some bitterness ..
So here, as I needed to move me and make this soup a little in advance, I completely peeled zucchinies before cutting them into pieces.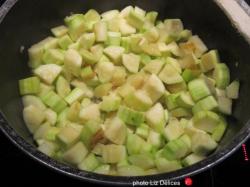 Sauté the zucchini in oil without taking color.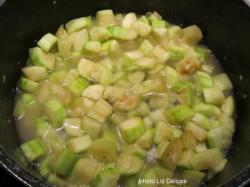 Cover with water up, put on low heat for 25-30 minutes covered. With a long cooking, you get a "velouté" texture

If you like more matter, cook a little less zucchinies.
Giving a tour of the pepper mill.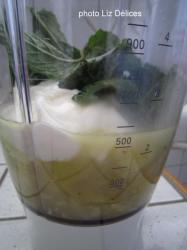 In a blender, place the zucchinies and juice, cream and mint.
Mix until the desired smoothness (smooth or with a few small pieces)
Keep cool for 2 hours minimum.
Serve ice cold in glasses or in Bodega glasses
For the presentation I chose to put  in the glasses a slice of crunchy bacon. To grill the bacon, place it on a Tefal oven plate and put it under the broiler, until well grilled bacon .
For decoration, a simple mint leaf can also do the trick ...